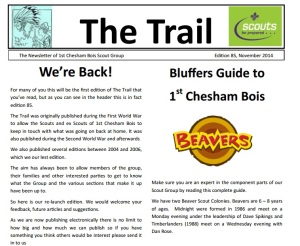 We're Back!
For many of you this will be the first edition of The Trail that you've read, but as you can see in the header this is in fact edition 85.
The Trail was originally published during the First World War to allow the Scouts and ex Scouts of 1st Chesham Bois to keep in touch with what was going on back at home. It was also published during the Second World War and afterwards
We also published several editions between 2004 and 2006, which were our last editions.
The aim has always been to allow members of the group, their families and other interested parties to get to know what the Group and the various sections that make it up have been up to.
So here is our re-launch edition. We would welcome your feedback, future articles and suggestions.