Andy Honour reports on Columbus Explorer Scout Unit's summer trip to the coast:
Skern Lodge is an adventure centre on the north Devon coast. We have visited a number of times before, but this year it felt like the fullest programme we have ever had.
It started Sunday afternoon with surfing. The wind was in shore and making loads of great waves for us amateurs to ride. We took the largest group ever, there were 18 of us and everyone stood up on their board even if only for a brief moment.
That evening we did the tunnels. This was something we have not had as an evening activity before, so day one already felt full. The tunnels system is claustrophobic and designed to test our courage. Everyone got stuck in and tested themselves, some going into spaces they had not previously managed.
After a good night's sleep and cooked breakfast Monday morning was river Kayak and bridge jump. There was a great sweep of confidence as everyone jumped the bridge three times with barely any hesitation; of course there were plenty of screams.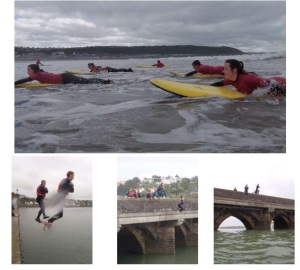 We had the two man sit on Kayaks, great fun to paddle, but we also spent plenty of time falling or jumping off of them as well. The slalom race between the bridge arches demonstrated a wide range of skills with plenty of action between the boats.
The afternoon event was high ropes. There are many events on the high rope and we seemed to get through so many events including our old favourites of crate stacking and the trapeze. We also did the scramble net the low and high bar and the caterpillar climb.
In the evening we had team building games. Brad our instructor worked really hard to find us a ton of entertaining stuff to do. An old favourite game, Place the Egg, gave us all plenty to think and laugh about. The Zen wrestling games were also new to us and great fun. We finished the evening with six man ski racing, where the leaders team demonstrated terrible coordination.
Tuesday was our last day and we were back in wetsuits and down on the river in inflatable rafts. The activities included some paddling but with the usual silliness, boarding other boats and generally messing about. A new game with the rafts was to slide from the bank. So much fun from such a simple game.
The last activities were the climbing and abseil wall and the zip wire. Alex and Ali provided us with great entertainment pulling everyone up to the top of the zip wire. After the all-important team photo it was time to say another fond farewell to Skern until next time.